Spring was full of late and significant cold fronts, but the fishing has been fantastic. The old saying "In like a lion and out like a lamb" seemed a farce and made me wonder when that little lamb was planning to come to Florida. Even now the lion roars every few days. None the less, it is one of my favorite times of year as the world once unhurried with winter lethargy rebounds with a youthful energy as spring rolls into the water. The snook, redfish, trout, jacks, and mackerel fishing have all been productive. Monster snook came barreling out of the water smacking the jerk baits sky high in the rivers, and my favorite fishing holes along the shore became even more popular as and the intensity of this fishing picked up tremendously since the irresistible white bait has graced our shores once again with their schooling presence. Redfish tails were easy to spot in the gin clear waters of the flats. Gator trout near bursting with roe were feeding voraciously as our waters warmed. The king and Spanish mackerel, run was more like a marathon and cobia were opportunistically taken! Permit and grouper continued to be the fancy on our offshore reef locations.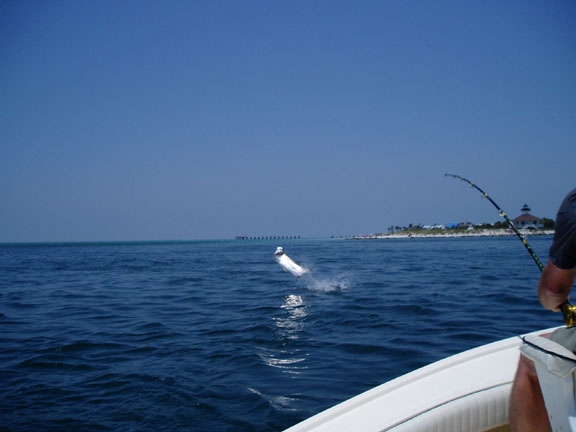 Justin Rowe captured this awesome image of his dad, James, and the sliver king in epic battle.
Thanx for the image Justin.
But now I focus my attention on the giant tarpon. Next to snook and my new found love, these mighty silver kings can really make the blood sore through my veins and pump the blood pressure like no other can do. Many folks from all over the world are joining me as our tarpon season in the Boca Grande area is in full swing. Fishing the flats with live bait, dead bait and artificials was quite the big-game hunting experience in early season. There were a few surprises in "store" for us at Burnt Store and even more up the harbor to some of those…what…freshwater places? Do tell! The fish stayed out of the pass early this year and only began to gather with some consistency after the new moon of May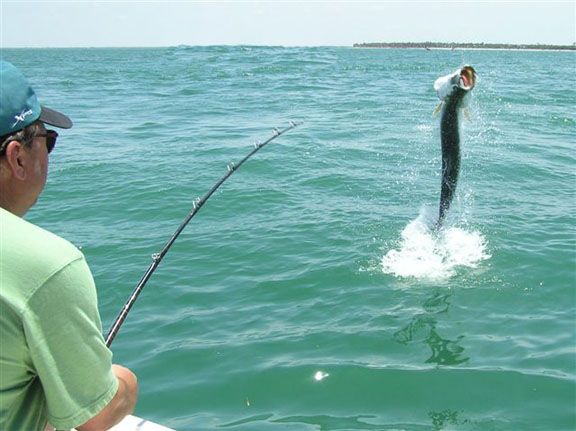 Jess Burner captured this eye to eye meeting of man and beast.
Thanx for the images Jess!
As the full moon of May has passed, the tarpon are still coming from all directions and are piling into the pass. From the flats, from the beach, from the harbor, we have fish stacked thicker and packed in numbers like I have not seen in at least five years. The tarpon are here, alive, well, and rolling as far as the eye can see. Just when you think no more can fit into the pass another 2,000+ will come humping along to join the others. While mother nature of the wind, air temps and water temps may be lagging behind, the biological clocks in these silver beauty queens are ticking and the moon light calls to them internally, as they are pulled into the pass by some gravitational force to assemble as families and relatives and long-lost friends to get ready to spawn. In this same manner, the families, relatives and long lost friends of humanity gather together on their vacations to share their time off with the silver king. Memories and once-in-a-lifetime experiences are made here. I have too many to count and anxiously anticipate the new ones made each season. As the faint pastels of sunrise in the east cast magnificent morning shadows over the pass bringing our attention to gentle giants rolling at the surface in our slight-to moderate choppy waters this May, I sit back in my boat and reflect on just how fortunate a man I am. This is my office. This is my time to think and meditate on what is most important to me and know I can go home to share these moments with loved ones at days end just like my clients can.
Despite times and changing gear and tackle and human growth and development, not much has changed in the pass when you get down to the basics….we're just fishing. Tarpon fishing is alive and well in the ole' pass…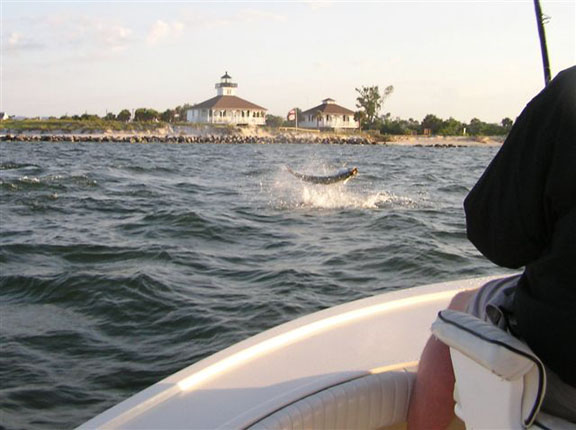 Tarpon fishing is alive and well in the ole' pass. Jess Burner image credit.
It's been happening since written history has been able to narrate the stories for us and so it continues …nothing can stop us from this giant tarpon adventure. "Drop your lines", wait a few seconds, give a couple of reels and then, "Fish On!" Acrobatic, vertical leaps nearly 8-10 ft. out of the water and over our heads just astounded us last week. Tarpon leaps happen everyday in the pass, but this particular fish had true Olympic potential. Giant tarpon at the side of the boat are being photographed for souvenirs and fin clipped for research. Hammerheads that swallow the tarpon whole with no warning are few and far between, and the infamous sharks fiasco of recent years has seemed to of subdued itself to more "normal" levels of predation. I am reminded of a video where such creatures were hunted with shotguns for conservation efforts to "save our tarpon". And yet all we have is Mother Nature doing what she does; taking care of her family by putting food on the watery table for her creatures. The sharks will hunt for the tarpon for food, like the tarpon wait for the pass crabs, Portunus gibbesii, (not calico or blue) that will rush through from the hill to the pan providing the dinner spread for the tarpon. In the mean time, anglers wait for this first hill tide event of the season. This is a happy time as people from all places and walks life and styles of fishing gather together in a peaceful coexistence on the water to fish for tarpon as a united race.
The 2005 Tarpon Season has begun and the calendar is nearly full but a few spots remain available in June. If you want to test your will against the tarpon's give us a call or email. Come on down and "getcha sum"!
Happy Birthday Mike McCue 1967-1999. We miss you "brother man from the other land". Love, Loyalty and Friendship.
Screaming Drags and Tired Arms!
Robert McCue
The above animation utilizes "flash". We are in the process of developing additional video for your pleasure and is soon to come. If you do not have the "flash" plugin within your browser you can download it free by clicking the logo below


Florida Fishing Charters
Past Florida Fishing Report
2004 2003-2002-2001- 2000 & 1999 Report Archive

Send E-Mail

OR CALL TOLL FREE
1 (800) 833-0489
---
Home | Tarpon | Snook | Flyfishing | Species We Catch | About The Area | 200 lb Giant Tarpon Club |
Frequently Asked Questions | Links | Year 2005 Giant Tarpon Fishing Season | Photos |
| Testimonials | Moons and Weather | Video | In The News | Newsletter |
This site contains tons of World Class gamefish photos, please surf the entire site to review these images
Last Update 1JUN05
Copyright 1991-2005 Bounty Hunter Florida Sport Fishing Charters & Guide Service Inc.
All Rights Reserved. Do not reproduce or distribute in any form.
Florida Fishing Report:
Florida fishing charters