CHILLY Two significant dips in the jet stream jolted the Eastern seaboard the past week and allowed Arctic air from Canada's frozen tundra to slide nearly to Cuba.

Most sensible folks stayed in port the past week, leaving the question of a tree making noise in the woods when falling for another warmer day. There is no question, the rain in Spain stays mostly in the plains, and when the wind chills are below freezing, those fish will be there on another day. You don't need to go to know that.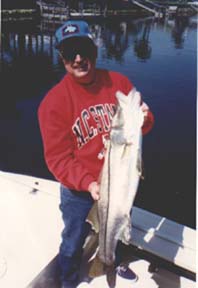 Best strategies following these LaNina dips in the jet stream are to engage in the run and shoot offense. Fish until you hit. Using this tactic particularly in residential dredge canals and armed with live shrimp near always produce something in these conditions. Mango snapper, sheepshead, ladyfish, trout, jacks, tarpon, and snook are all potential catches. Is it "glamour" fishing? It sure can be. By the image attached to this report, let me ask you, is it live? Or is it Memorex?
There is no doubt conditions are tough. You will find few seasoned guides perched on the dock lecturing the words of Confucius. Living up to expectations of a top dollar charter are the pressures involved in my career. People often ask what makes you tick and how do you do it. For those who know me, I am a loner. Even the coldest of days you will not find me hanging out in bait shops drinking coffee and telling lies. But if I were to answer the question, I will say these three features are what you'll find the top guides all have in common.
Natural talents…like in almost all aspects of life; some are just blessed with the gift. Accompanied with a relentless attitude, they always seem to produce even under the toughest conditions…daily.
Pentium III brain cells…the ability to remember without keeping a written log is something that comes naturally after years and years of repetitive fishing. Scribes who study the published scriptures the night before can not be pulling out notebooks when plan "A" falls into the bilge.
Luck…I'd rather be lucky everyday than good.
I spent the past week gearing up for season. Bounty Hunter II has been sold and will leave me this week. Clearing out the minor bugs the past few weeks have brought back many memories this flats boat gave me the past 6 years. I'll miss her, but she is a business decision I had to make. Bounty Hunter III is a 2000 Dorado 23LE. This state of the art machine will provide more comfortable and safer surroundings. The flats boat simply is not practical anymore. Weather conditions have changed the past two years. The winds blow harder and more often and the low slung boats are barely safe anymore. Open water tarpon fishing from mid April thru September is a annual sell out, with over half those days double booked, my vessel is now my home. With the increased pressure on the inshore fish and no spot sacred anymore, its time to move out a little bit and keep them folks coming back. Bounty Hunter II leaves me with a small hole in my heart as I realize exactly what that means. A flashback to that old 60's commercial with a tear running down the Indian's face as he looks down a littered highway came to mind. The changes on the water are difficult to accept, but rolling with them is just part of getting on with it.
Screaming Drags and Tired Arms
Robert McCue