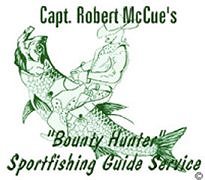 View Current Report
3AUG99
Reverse Weather Pattern Lets Moon Shine Through
High pressure situated over the Gulf last week caused the dreaded west winds, morning thunderstorms, and clear moonlit nights.
Several rocky areas featured plenty of tarpon rolling in Tampa Bay and tarpon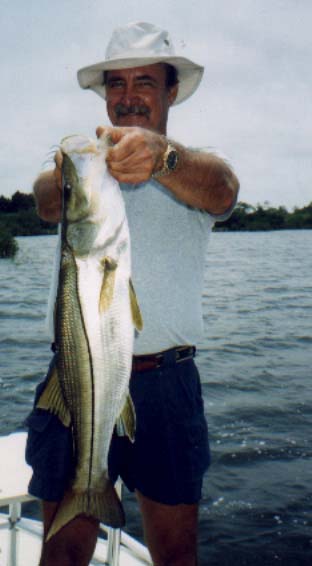 movements were evident, the bite was slow. The average of 3 to 4 fished jumped fell to one or none. To further complicate matters, the skies were clear over the Bay, the moon was bright and full, and the storms were on the western horizon right from the get go. All unfavorable conditions that kill tarpon fishing faster than Superman can leap a tall building in a single bound.
The moon is phasing out, and with a little luck a Bermuda high will build a typical summer weather pattern scenario this week. The good news is there is plenty of GIANT TARPON stretching from Sarasota Bay,Tierra Verde, Terra Ceia, Manatee River, Port Manatee, Apollo Beach, Hillsborough Bay and Old Tampa Bay. When a shift in the wind indicates the pressure change, the bite light will be on once again.
Snook fishing was a wash out in the passes and beaches. We retreated to the backcountry and were rewarded with a few jumbo reds and a few over-sized snook. These results are proof positive that some lunkers are on the move east. We did best in deep-water cuts and troughs around mangrove points. There is plenty of freshwater runoff coming out of the creeks and rivers now. This should result in some schooling of redfish over the next two months.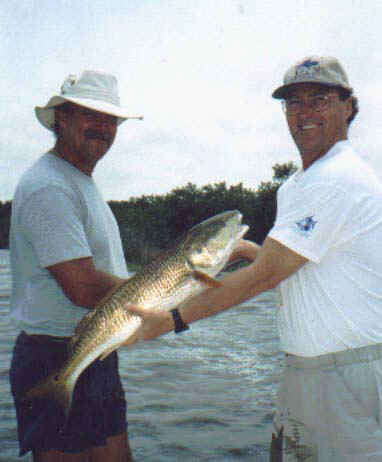 The best action has been with the pompano. Though I had no request to fish the golden nuggets last week, my partner Capt. James Wisner put up some impressive numbers on last week's full moon. The strong tides that accompany the moon get the pomps fired up in the passes. Fiddler crabs and small jigs (just light enough to reach the bottom) get the nod. Action will continue well into September on these most delicacy of table delight.
Best Bet: Tarpon, Pompano, scattered Snook, Redfish, and Mackerel
Screaming drags and tired arms!!! Robert McCue
Past reports
8FEBB99 17FEB99 22FEB99 1MAR99 15MAR99 4APR99 19APR99 5MAY99 24JUN99 11JUL99 21JUL99

Send E-Mail
To Capt.Robert@gianttarpon
OR CALL TOLL FREE
1 (800) 833-0489
[Home] [Tarpon] [Snook] [Flyfishing] [Species We Catch] [About The Area]
[ Frequently Asked Questions] [Links] [1999 Giant Tarpon Fishing Season]

Last Update 3AUG99
Copyright 1991-99 Bounty Hunter Sportfishing Guide Service Inc.
Do not reproduce or distribute in any form.